I'm very sorry to have left my readers without updates for so long — and it is even worse on my other sites. The Eggcorn Database needs urgent attention.
I wouldn't have, though, if my health hadn't seriously given out under me. And then — for not totally unrelated reasons, I got separated from my usual internet access.
I am slowly working my way out of this unpleasant state and trying to find reliable ground below my feet again. And will post about what is going on, in parts at least.
For a few more days I won't be precisely home, be access in the internet via wifi and a laptop (great stuff, by the way).
Till I'm really back, feel free to look at the photos.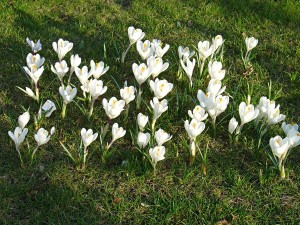 Pas de mise à jour depuis des lustres, mes autres projets totalement en rade … quel cafouillis. Je suis désolée d'avoir dû tout délaisser. D'abord c'était ma santé qui m'a lâchée, ensuite, pas tout à fait sans rapport, j'étais privée d'accès internet. Actuellement, je profite d'un portable IBM ThinkPad T22 que j'ai pu récupérer, et du wifi.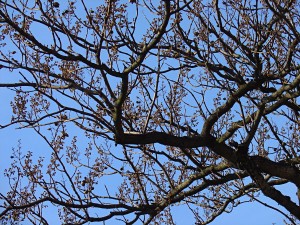 (Petite note : Ubuntu Linux s'installe dessus sans le moindre problème. Et je suis toute fière d'avoir réussi à compiler le pilote pour la carte sans-fil PCMCIA. Comme toujours — si on peut le faire, il vaut mieux vérifier la compatibilité du modèle avec Linux avant l'achat.)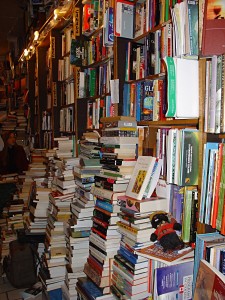 Ce billet, c'est en premier lieu pour rassurer. J'ai trouvé des messages gentils, venant d'ami/es qui se sont même demandé si j'étais encore en vie : on n'est pas tout à fait là quand même, et je fais tout pour retrouver mes pied (et de la terre passablement ferme en-dessous). Ce week-end est enfin pas le moins
Je serais toujours réfugiée chez une amie pour quelques jours et donc . Ce week-end n'est enfin pas le plus incongru pour faire une petite résurrection à l'échelle personnelle.
Oh, les photos … le printemps est enfin là ; le soleil des derniers jours devrait avoir poussé les arbres sur la deuxième photo à fleurir (je vérifierai une fois de retour dans mon quartier). Et je ne sais pas comment j'ai pu ne pas connaître The Abbey Bookshop, une librairie canadienne avec une densité de livres par mètre carré qui doit être un record.
Les liens mènent vers mes pages Flickr, où il y a encore plus de photos, en plusieurs tailles.
---
Related posts: No Related Posts
Technorati (tags): No Tags