Les élections aux Etats-Unis, c'est aussi notre leçon de géographie américaine quadriennale. En cherchant un peu, on peut trouver des cartes plus intéressantes que celles qui détaillent le résultat final état par état en rouge et bleu (note aux lecteurs ayant besoin du rappel : rouge = parti républicain = droite ; bleu = parti démocrate = plus à gauche).
Kieran Healy sur Crooked Timber (en) a mis en ligne une carte comté par comté de chez (Associated Press via) USA Today (en). Le ton de son billet est un peu âpre, cette carte étant populaire chez des blogueurs de droite, en extase devant cet océan de rouge.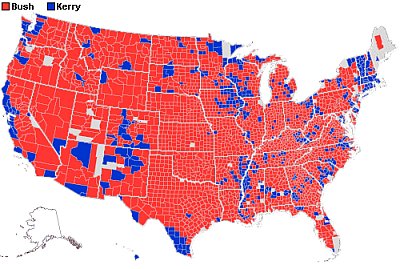 La dominance du rouge vient tout simplement du fait que les régions rurales, peu peuplées, sont largement de droite. La plupart des parties bleues correspondend aux grandes agglomérations, mais les plus intéressantes sont les endroits où on ne vit pas en grande ville mais vote démocrate quand même. Kieran propose une carte des comtés par densité de la population (et on trouve d'autres dans le fil des commentaires), mais ici nous suivons la suggestions d'un de ses lecteurs. Voici une image satélite nocturne des Etats-Unis, prise du site Astronomy Picture of the Day (en) de la NASA. collection.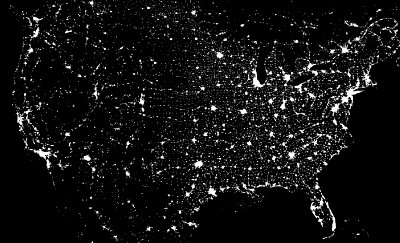 D'autres, surtout Robert Vanderbei (en), ont colorié la carte des comtés en tons de violet, entendu que les Etats-Unis, en dépit de tout le discours actuel sur les « deux Amériques », sont un pay bien plus complexe. Du moins, cette carte a le mérite de nous permettre de mieux localiser les régions près des extrèmes et celles qui sont soit plus près du centre (ou du point sur l'axe politique où on doit situer le centre là-bas), soit plus mélangées. Pour les accros, il y a des cartes plus larges et détaillées sur le site de Robert Vanderbei.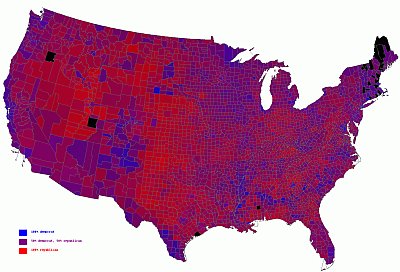 En France, ce type de carte après-élections est très courant. Voici la version du Monde, pris de leur animation Flash belle mais lourde : style français, en tons de rouge et bleu purs de plus en plus saturés.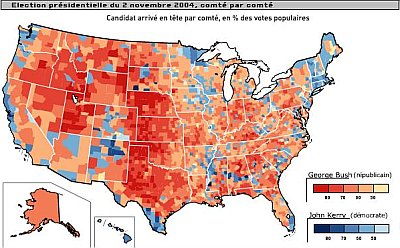 Enfin, et toujours dans la même animation Flash, Le Monde propose la carte des gains et des pertes. Il n'y a qu'un seul ton de bleu (clair) pour les gains du coté démocrate…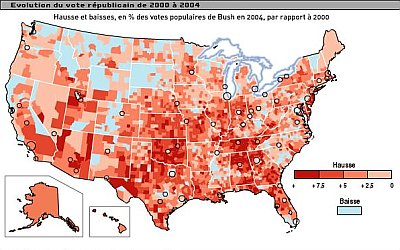 Crédit images: USA Today, Robert Vanderbei, NASA, Le Monde
---
Billets connexes : Elections, elections, Citations d'hier, SNCF : Zero en géo, Meanwhile in France, Love, What's your MP up to?, Poor EU parliament
Technorati (tags): Bush, election, géographie, geography, politics, politique, USA