Yes, I'm joining the crowd. This is an anti-anti-cat-blog blog. World, meet Voyelle, Voyelle, this is World.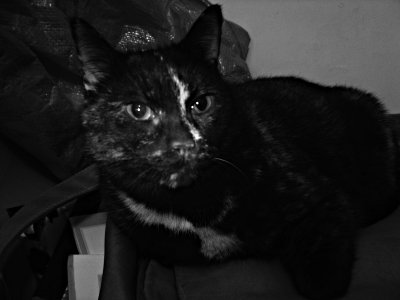 (Two remarks: She manages to close her eyes during my camera's measuring flash, so I have a lot of much better pictures of her, but with her eyes closed. Second, her name means vowel in French, but it's supposed to be the feminine form of voyou, i.e. scoundrel, in my own private derivational system. I just read that the correct feminine form is supposed to be voyoute. Where did I find this bit of information? I'll post more tomorrow. )
Oui, moi aussi. Ceci est un blog anti-blog-anti-chats. Je vous présente donc … Voyelle.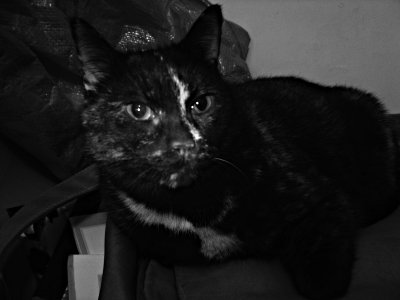 (Elle est parfaitement capable de fermer les yeux pendant le flash de calibrage émis par ma caméra. J'ai donc plein d'images meilleures, mais, malheureusement, avec un chat aux yeux fermés. Par ailleurs, son nom est censé être la forme féminine de voyou, selon mes règles bien personnelles de dérivation. Or, je viens de lire que cette forme devrait être voyoute. Où ai-je trouvé ceci ? Attendez demain pour la réponse.)
---
Billets connexes : No Related Posts
Technorati (tags): No Tags