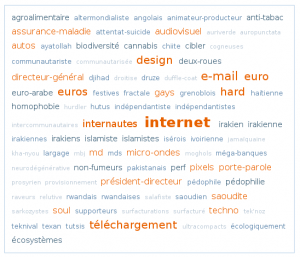 At Technologies du Langage, Jean Véronis provides a stunning visual of words he picked out of RSS feed of Le Monde, but which are absent from what is certainly the best French online dictionary, TLFi. The Trésor de la langue française, he reminds us, took 30 years to compile until it was completed in 1994. Among the neologisms, "internet" looms large, of course, but there's also "pédophile", "homophobie", "hutus" and "tutsis", "teknival", "anti-tabac", and the newest addition, "droitiser".
Let's note that these new additions to the journalistic lexicon are far from being all anglicisms. The presence of "assurance-maladie", "directeur-général" and "porte-parole" are a bit surprising to me, but maybe they actually do appear somewhere under a dictionary entry, but are just not deemed important enough to get their own lemmata.
A previous post already talked about dictionaries from an unusual angle: by not looking at the new words that enter but those that are dropped by the publishers of mid-sized tomes for the general public.
---
Related posts: Je blogue et j'ai les boules, Cinderella, vair or verre?, Google Belge : problème d'orthographe, Sappho II, Les poteaux roses, c'est auripilant, Amuse-bouche to zaibatsu, Ethnologue
Technorati (tags): folksonomy, language, langue, langue française, néologismes, neologisms, web