Via Kevin Marks : Il existe un petit logiciel étrange mais remarquable de chez Apple, appelé « Speak After Me », qui prend morceau de texte et l'enregistrement de quelqu'un l'énonçant, le transcrit en phonèmes (du moins, c'est-ce que le logiciel dit qu'il fait), et calcule une courbe de tonalité en fonction de ces unités sonores. On peut éditer le résultat et exporter les données dans un fichier texte.
Voici une capture d'écran de l'interface. Kevin vient de dire « Coco is the queen of the space monkeys » (cliquez sur l'image pour l'agrandir). En surbrillance jaune, on voit la transcription, qui utilise un système d'écriture assez déroutant.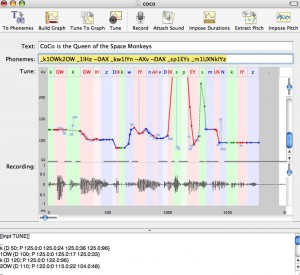 Comme je n'ai pas de Mac, je ne peux vous dire si le logiciel est capable de traiter d'autres langues que l'anglais. Mais même dans le cas de l'anglais, il est clair que la décomposition en « sons » est forcément un point faible du concept : l'inventaire de phonèmes n'est pas le même pour toutes les variétés de l'anglais (ou d'une autre langue). Il y a nécessairement un choix qui en privilège une. Néanmoins, le logiciel pourrait être intéressant quand on veut apprendre plus sur le fonctionnement de la parole. Je pourrais même le voir dans les classes de langue (étrangère ou maternelle). Selon Kevin, il s'agit avant tout d'une application qui vise de montrer les capacités d'OS X, faisant partie de l'« installation pour développeurs », apparemment disponible pour tous les utilisateurs de Mac OS X. Est-ce quelqu'un l'a déjà essayé et pourrait nous en dire plus ?
---
Billets connexes : Pseudo-phonetics, Quick links, Branding: IPA and exotism, Multi-lang II, Merriam-Webster & Firefox, Pas aussi atroce que ça !, Transcribing an unknown language
Technorati (tags): language, langue, OS X, outils, phonétique, phonetics, tools